To the Moon and Back: slipcase edition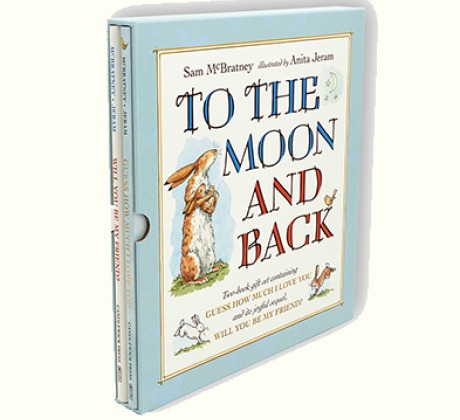 In an ideal gift for little ones, the family classic Guess How Much I Love You and its sequel, Will You Be My Friend?, nestle together in a beautifully designed boxed set.

It's the book that gave rise to the words "I love you right up to the moon—and back"—a phrase that's now in the common vernacular. This tale of a big and little hare who boast of loving each other as high as they can hop and as wide as they can reach has been adored by a generation of children who've begun sharing it with their own. Twenty-five years after the Nutbrown Hares met the world, creators Sam McBratney and Anita Jeram brought us the perfect companion—the story of Little Nutbrown Hare's jubilant steps toward independence after meeting a new friend. Now, in an elegant slipcase, Guess How Much I Love You and Will You Be My Friend? find a special spot together on bookshelves—a pairing sure to be coveted by big and little readers for generations to come.
Product Details
ISBN:

9781536222210

Format:

Book Collection

Published:
Stockists
Return to Books