The Story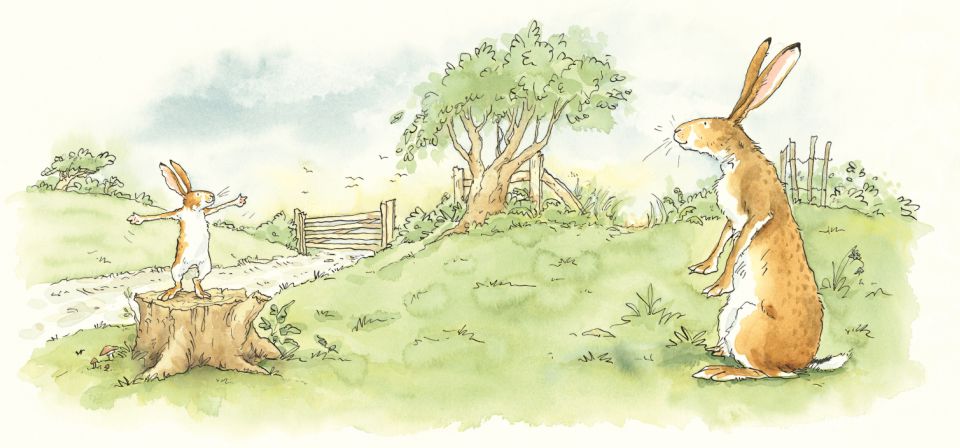 For 25 years Sam McBratney's timeless story, beautifully illustrated by Anita Jeram in gentle watercolours, has captured the hearts of children and adults alike.
The story of the Nutbrown Hares trying to find a way to measure the unmeasurable, and Big Nutbrown Hare's heart-warming declaration to Little Nutbrown Hare, 'I love you right up to the moon – AND BACK', has helped this story become a way of saying 'I love you' all over the world.
The book has inspired a range of publishing, including our 25th anniversary special editions, and a wonderful selection of licensed products. Find out more about the creators of this beautiful book and the story behind its success here.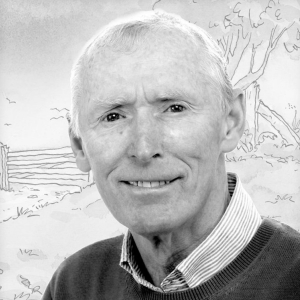 Sam McBratney
Sam McBratney is the author of more than one hundred books and scripts, and is known the world over for his best-selling family classics.
Sam spent his postwar childhood "in short trousers and Fair Isle jumpers". He remembers studying for his 11-plus exam, before going to grammar school, and then on to study History and Political Science at Trinity College in Dublin.
Sam became a teacher and taught at a further education college, a grammar school and a primary school. He took early retirement from the teaching profession to concentrate on his career as a writer.
Sam McBratney passed away on September 18, 2020, at the age of seventy-seven. He is remembered by not only Maralyn, his wife of fifty-six years, along with his three children and six grandchildren, but also generations of readers whose hearts and minds he touched with his books.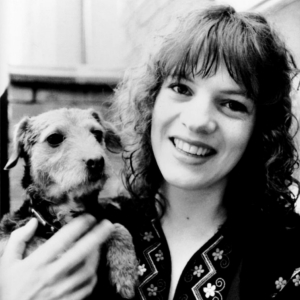 Anita Jeram
Anita Jeram was born and brought up in Portsmouth. Anita worked in a variety of jobs after leaving school before doing a foundation course in Visual Studies at Manchester Polytechnic, followed by a degree course in illustration. Her first book, Bill's Belly Button, was published a year after she graduated. Anita is best known as an illustrator of children's storybooks, and her work for the modern classic Guess How Much I Love You was shortlisted for the 1994 Kurt Maschler Award.
Anita is married to a palaeontologist and has three children and a menagerie of animals, including cats, dogs, rabbits, toads, a lizard, a snake and a tortoise. She lives in Northern Ireland, and hopes, eventually, to set up a wildlife sanctuary there.
How it all began
The seed for Guess How Much I Love You was planted during a conversation between Sam McBratney and his editor Caroline Royds, at Walker Books. Sam explains how it all began...
One day, my editor at Walker Books in London said, "Why don't you write a picture book, Sam?"
I said, "Do I not need to know an illustrator, Caroline?"
"No."
"Wouldn't I have to work with an illustrator? You know, match text with drawing sort of thing."
She shook her head.
I said, "You mean, you want me to send you ... a page?"
"Sam," said Caroline, "we have illustrators who can render in exquisite detail whatever your imagination can dream up. What we don't have are people who can write a powerful story using hardly any words at all. It looks as though it should be easy, Sam, but it's not easy."

What she was saying was what I later came to believe: it's as difficult to write a fine picture book, one that stands out from the crowd, as it is to write a fine novel.

I took up the challenge and the result was Guess How Much I Love You, published in 1994. About 400 words. And Caroline was right, it wasn't easy – it was a new experience over six months to have every word fighting for its existence in the finished text. But that's another story, a different story.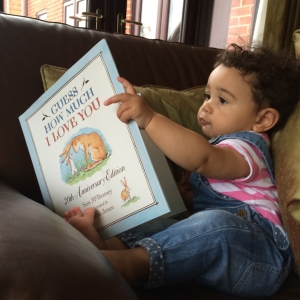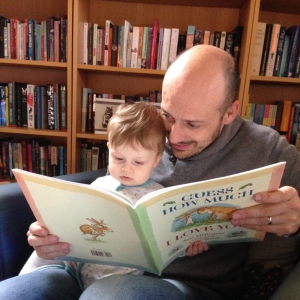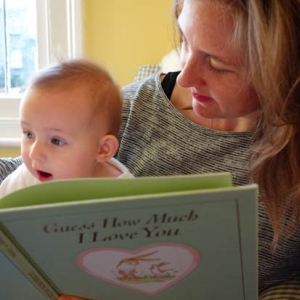 I love you as high as I can hop.
Guess How Much I Love You was an immediate success, the combination of iconic phrases and beautiful artwork coming to signify a way of saying 'I love you' all over the world. It was shortlisted for the Kurt Maschler Award in the year of publication, and it was at that award ceremony that Sam discovered just how many people were already beginning to share in this extraordinary story.
'At the ceremony, my agent was talking to my wife while I was away talking to somebody else.
My agent said, "Is he disappointed, Maralyn, that he didn't win?"
Maralyn said, "Well, now that he's actually here and the book hasn't won, he'll not be well pleased – but it won't fizz on him tomorrow."
"But he's a winner already," said my agent. "It has sold 100,000 copies."
"Well he doesn't know," said my wife.
And I didn't. They went and got me.
My reaction? "A hundred thousand copies?" Stunned silence, pause. "Nobody never tells me nothin'!"'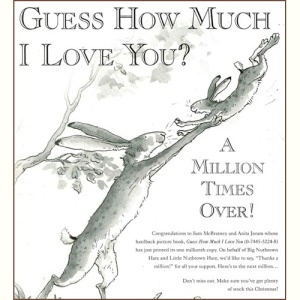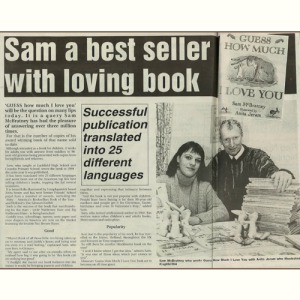 The words are simple, direct, and true. The words came first.
Sam attributes the success of Guess How Much I Love You to four things that came together in the creation of the book. He explains:
'First: yes, in the beginning is the word. The words are simple, direct, and true. The words came first.
Secondly, the drawings. There's a gangly awkwardness, a boneyness, about hares, that Anita Jeram has captured, and with such a lovely soft palette. She has also perfectly caught throughout the intimacy between a big one and a wee one.
Thirdly, the design. Such thought has gone into the whole package. My two favourite aspects of design are the lettering of the cover, which for me has a quaint old-fashioned feel, and also the half-title page. This is where Little Nutbrown Hare and Big Nutbrown Hare are looking out at you. "We're off on a journey," they seem to be saying. "Are you coming with us?"
Fourthly, those who brought the book to the marketplace.'
Word about this remarkable picture book continues to spread. Guess How Much I Love You has gone on to sell over 47 million units and has been translated into 57 languages.
'This is a book which both parents and children adore and will be a book any adult will happily read over and over again at bedtime!'
The Guardian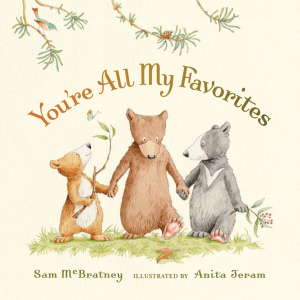 In 2004, Sam reunited with Anita Jeram to make another picture book, You're All My Favourites, and collaborated again in 2007 for a series of storybooks featuring the Nutbrown Hares: Guess How Much I Love You in the Spring, and Summer, Autumn and Winter. These were brought together in Guess How Much I Love You All Year Round.
The Gift of Guess How Much I Love You
Be it between a parent and child, a couple in love or two friends, there is a universal truth at the heart of Guess How Much I Love You that enables it to have an extraordinary relevance to many different people. A long-established nursery essential, Guess How Much I Love You is a popular present choice to celebrate the arrival of a new baby, but has also become a favoured gift for weddings, Valentine's Day and other special occasions.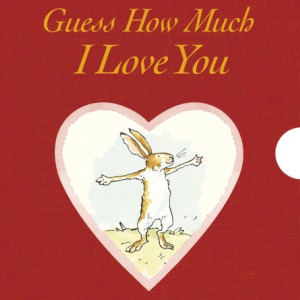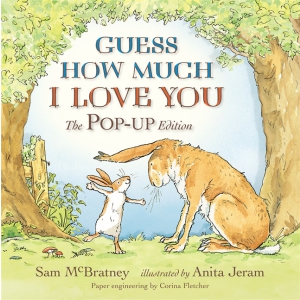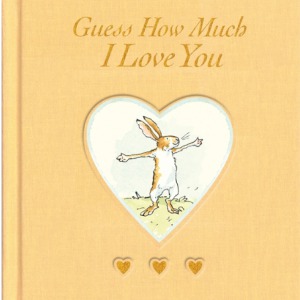 Anita's illustrations and Sam's words have also inspired a range of licensed products including baby and infant clothing, nursery bedding, toys, confectionery and jewellery. With new lines launching to celebrate the 25th anniversary this year, there are now even more ways to say 'I love you' with the perfect Guess How Much I Love You gift!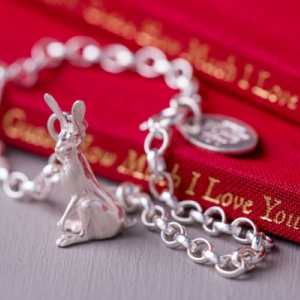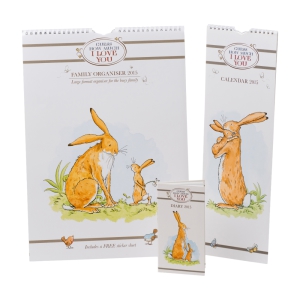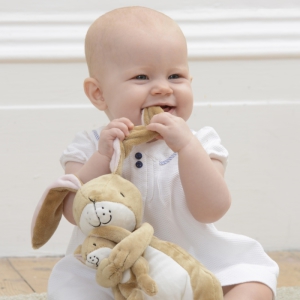 In 2011, Guess How Much I Love You was adapted for television. Seen in over 60 countries and available on DVD and via digital download, Guess How Much I Love You – The Adventures of Little Nutbrown Hare was produced by Australia's SLR Productions in association with Scrawl Studios and German broadcasters, KIKA-Der Kinderkanal and HR-Hessischer Rundfunk of ARD.
In 2015, a second series of the much-loved television adaptation was produced by SLR Productions in association with KIKA-Der Kinderkanal and HR-Hessischer Rundfunk of ARD as well as ABC4Kids. There is 78 x 11 minutes available of the television series which is distributed by 9 Story Media Group. You can watch a trailer and find out more at ghmily.tv

Looking back on 20 years: a note from Sam McBratney and Anita Jeram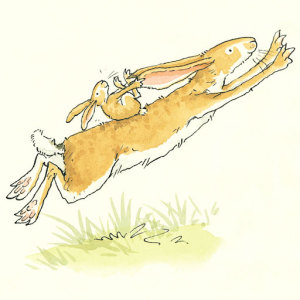 'Guess How Much I Love You is a light-hearted story for a big one and a wee one to share; you turn the pages, you read the words, you do the actions and you play the game. This evening, somewhere in the world, a mum or dad will be reading Guess with someone special. I'd like to share with you one comment a father sent me. He wrote:
"On good nights my little girl loves me all the way to the moon, but on bad nights she only loves me to the door."
If you're a parent (or a grandparent like myself), here's hoping that you mostly make it to the moon. And back…'
Sam McBratney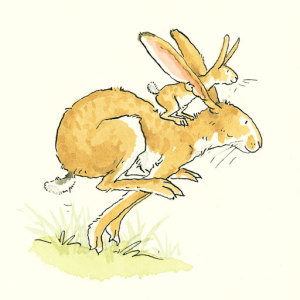 'Two little hares hopped out of my pen onto the paper, into the meadow, and then far away.
Pictures, like children, can have unexpected and unimagined lives of their own, as they find their way in the wide, wide world.'
Anita Jeram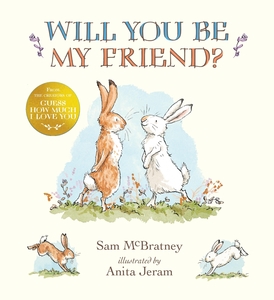 More than a quarter-century after the publication of Guess How Much I Love You, Sam McBratney collaborated again with Anita Jeram on a highly anticipated companion book, titled Will You Be My Friend? On crafting a sequel to one of the most beloved books of all time, the author said, "When writing about the hares, I aim to describe moments of emotional significance, but with loads of humour and the lightest of touches. This story is about one of those moments. Little Nutbrown Hare's world suddenly glows with the discovery of friendship."
Sam McBratney sadly passed away a few weeks before Will You Be My Friend? was published, but he took great joy in knowing how important his books were for families around the world and his legacy will always live on with the Nutbrown Hares.